I am Hildur Magnusdottir
a Psychotherapist, a holder of the European Certificate of Psychotherapy, ECP and a member of the European Association for Psychotherapy, EAP. I offer psychotherapy for adults from an Integrative Humanistic perspective with emphasis on Emotion Focused Therapy, an evidence based approach to psychotherapy.  I have completed an English 4 years MSc level training as an Integrative Psychotherapist.  I have my self gone through extensive psychotherapy and attend regular supervision, both are an important part of quality control and my personal and professional development. 
Employment within psychotherapy
I have practiced privately since 2012, volunteered for Drekaslóð 2013-2015, a centre for survivors of violence and supervised staff at Landspitali University hospital in 2016. I support international delegates of the Icelandic Red Cross.
Further training in Psychotherapy 
Emotion Focused Therapy (1, 2). Jeanne Watson, Robert Elliot (Holland).
2015 and 2016, 10 days.
Enhancing Emphatic Attunement.  Jeanne Watson (Holland). 2015, 3 days.
Emotion Focused Therapy for couples  (EFT Externship). Scott Woolley (England). 2017, 4 days.
Emotion Focused Therapy for Couples. Þórdís Rúnarsdóttir (Iceland).  2015, 1,5 days.
Emotion Focused Therapy for Complex Trauma. Antonio Pascual-Leone (Holland). 2016, 2 days.
Art of EMDR: EMDR Institute. Roger Solomon (Iceland). 2017, 4 days.
EMDR trauma therapy, complete basic training (1, 2) at EMDR Institute Inc. Roger Solomon, Gyða Eyjólfsdóttir (Iceland). 2015 and 2016, 6 days, 10 supervision hours.
EMDR trauma therapy: Complex trauma – working with parts. Gyða Eyjólfsdóttir, Margrét Blöndal (Iceland). 2016, 1 day.
Somatic Trauma Therapy: (1, 2, 3). Babette Rothschild (Ireland). 2014 and 2015, 12 days.
Cognitive Behavioral Therapy (CBT) for adults with anxiety. Gunnhildur Sveinsdóttir, Sigurbjörg J. Ludvigsdóttir (Iceland).  2016, 1 day.
Record – other than Psychotherapy
I am a nurse RN BSc (1985) MSc (2004).  I have worked at Landspitali, University hospital Reykjavik as a Clinical Nurse, deputy Nurse Manager and a Trainer in the Surgical division. I have worked as a  Project Manager in Human Resources and Academ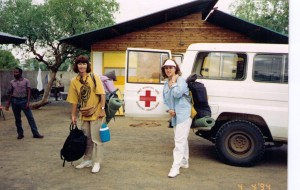 ic and Training Divisions with a particular focus on new recruits, foreign employees and culturally competent care. I have been a Lecturer and BSc/MSc Supervisor at the University of Iceland,  Akureyri University Iceland and a Tutor in MSc studies at the Royal College of Nursing London.  I have worked with the International Red Cross Movement (ICRC / Icelandic Red Cross) in grassroot, clinical and management roles in 9 countries in war and natural disaster zones in Africa, Asia and Europe and worked and studied in several other countries as well.
MSc (Nursing) Dissertation: Phenomenological study.  Reviewed article: Phenomenology study and interview.