Sound files for various types of meditations

   
Jon Kabat-Zinn has been one of the leaders in developing mindfulness
meditation as a therapeutic form alongside psychological therapy.
Loving-kindness and self-compassion meditations
Various meditations with Kristin Neff, one of the leader in Self-Compassion:
Affectionate Breathing [21 minutes]
Compassionate Body Scan [24 minutes]
Loving-Kindness Meditation [20 minutes]
Self-Compassion/Loving-Kindness Meditation [20 minutes]
Noting Your Emotions [18 minutes]
Soften, sooth, allow: Working with emotions in the body [15 minutes]
Self-Compassion Break [5 minutes].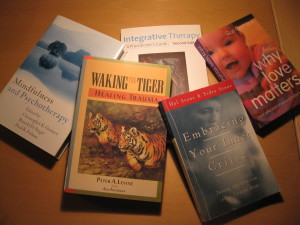 Books – suitable for the general public
Co-dependence, shame:
Homecoming: reclaiming and healing your inner child by John Bradshaw.
Healing the shame that binds you by John Bradshaw.
Co-dependence: healing the human condition by Charles L. Whitfield. My favourite co-dependence book.
Shame: the power of caring by Gershen Kaufmann.
Self-criticism:
Embracing your inner critic: turning self-criticism into a creative asset, by Hal Stone and Sidra Stone.
Attachment, child development, developmental trauma:
Why love matters: how affection shapes a baby´s brain by Sue Gerhardt.
A secure base: clinical applications of attachment theory by John Bowlby.
Anger:
Overcoming destructive anger, strategies that work by Bernard Golden. A good model and log to explore own´s anger.
Depression:
Positive psychology for overcoming depression by Miriam Akhtar. A good read to enhan
ce positivity in one´s life.
Addiction:
Getting beyond sobriety by Michael Craig Clemmens. Addictions from a Gestalt perspective.
In the realm of hungry ghosts: close encounters with addictions by Gabor Maté. A compassionate/developmental view.
Trauma  –  see also above in "Attachment" section (developmental trauma):
The body remembers by Babette Rothschild.
8 keys to safe trauma recovery: Take-charge strategies to empower your healing by Babette Rothschild. Empathic self-help.
Walking the tiger by Peter Levine. A bit heavy reading.
The Trauma Centre at Justice Resource Institute, Boston USA: clinical services, research, courses, publications.
The body keeps the score by Bessel Van der Kolk. A good integrative summary of the trauma field.
ADHD:
Scattered: How attention deficit disorder originates and what you can do about it By Gabor Mate. Developmental approach.